VOTIVA Treatment
in

Jackson & Flowood MS
Experienced OB-GYN Doctors for VOTIVA Treatment in East Lakeland
The doctors at East Lakeland OB/GYN in Jackson & Flowood are proud to introduce VOTIVA. 
VOTIVA is the very latest procedure in technological non-surgical offerings for the improvement of Women's Health and Sexual Issues. VOTIVA is a highly advanced procedure that is both safe and effective for the treatment of Sexual Dysfunction, Urinary Incontinence, and more! 
We love our babies, but we don't have to love the destruction they leave behind! VOTIVA, FDA-approved technology, is the life-changing answer to a variety of internal & external feminine concerns that occur due to childbirth.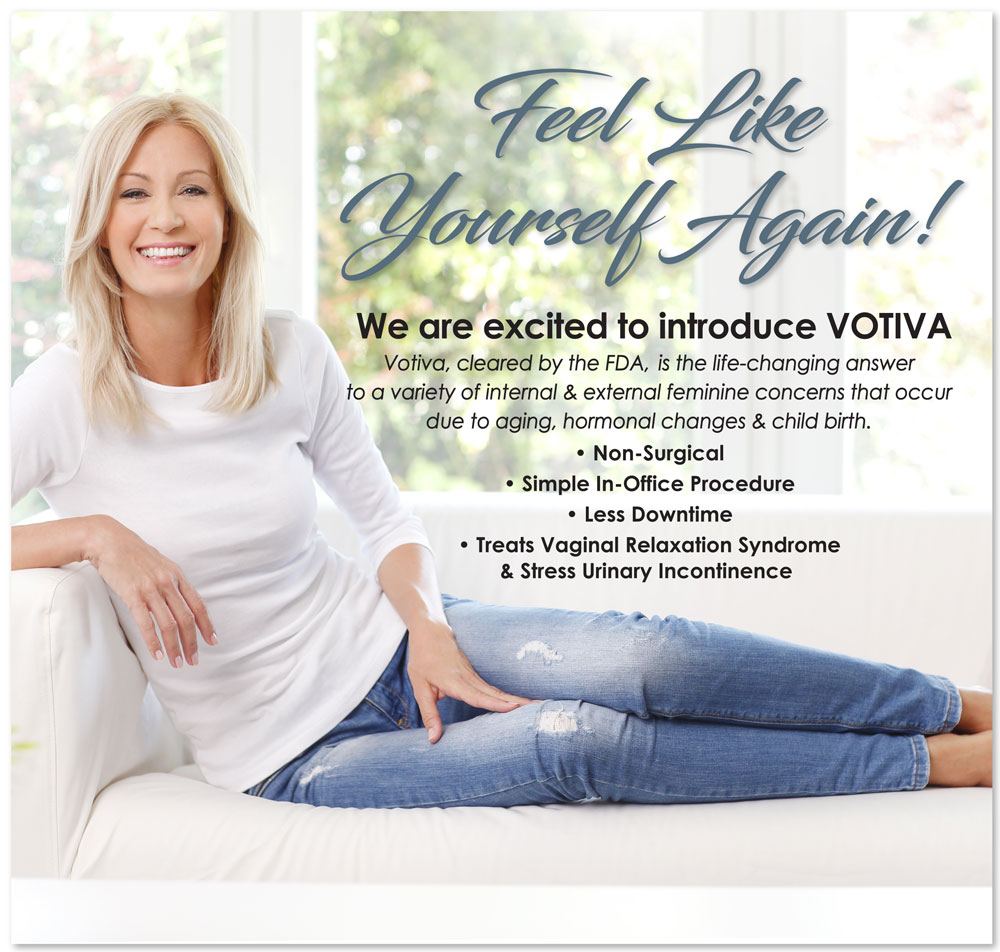 What is VOTIVA?
VOTIVA is a great non-surgical innovation using Bipolar Radiofrequency for Women's Health, providing rejuvenation and improvement of Sexual Dysfunction and Urinary Incontinence. VOTIVA is a safe, gentle procedure performed in-office and requires literally no downtime.
See Also: 7 Things You Should Never Do Before Seeing Your Doctor
What does VOTIVA treat?
VOTIVA treats the issues which have occurred in the vagina through aging or childbirth such as:
Tightening the vaginal canal (post-partum, multiple births)
Enhancing vaginal muscle tone, strength and control
Increasing sensation and stimulation for both partners while improving sensitivity.
Rejuvenating and plumping the Vulva
Reducing stress urinary incontinence (involuntary dripping of urine)
Reducing dryness caused by hormone fluctuations, aging and for the post-cancer patients who are not hormone replacement candidates
Reducing pain caused by labial hypertrophy
Many women are searching for treatments for the uncomfortable, embarrassing symptoms associated with vaginal irregularities and sexual dysfunctions. Symptoms like sexual dysfunction, urine loss, and loose skin of external genitalia might have a negative effect on you physically or psychologically.
See Also: Can I Do Anything About Vaginal Dryness?
Symptoms and Discomfort which can be treated with Votiva include:
Post Partum vaginal relaxation
Atrophic changes associated with menopause or loss of estrogen
Stress urinary incontinence
These conditions can all contribute to poorly supported vaginal structures that cause sagging, laxity, and discomfort. Childbirth widens the vaginal canal, contributing to decreased sensation, stimulation and orgasms during sex, while aging causes hyposensitivity, dryness and pain.
With VOTIVA treatments, the walls of the vagina are strengthened and tightened, thus restoring contour, muscle tone and the physical appearance of the entire vaginal area and external structures (labia minora and majora).
How does VOTIVA work?
VOTIVA technologies include FormaV and Morpheus that can be used independently or simultaneously:
FormaV – Gentle Thermal Tissue Remodeling (Internal and External) is a painless, non-invasive, sub-dermal heating procedure that feels like a warm massage. During treatment with FormaV, comfortable and uniform Radiofrequency (RF) heating is applied to the internal vaginal canal and external vulva tissues. The flexibility of the FormaV technology allows for precise treatment that restores tightness, reduces dryness, and improves the overall appearance of the area for comprehensive vaginal renewal. Results occur immediately, with continued improvement post procedure. As collagen produces, elasticity tightens the vaginal walls, which then increases friction that improves sexual satisfaction for both partners.
Stress Urinary Incontinence – Many women experience an involuntary urine loss upon coughing or without any special reason. Votiva treatments strengthen the muscles of the pelvic floor. This is a major difference from other technologies, which do not provide this outcome due to the very different technology.
Treatments also restore moisture to the vaginal area, resulting in decreased discomfort due to dryness, especially during sexual intercourse.
Morpheus – Fractional Radiofrequency Contraction (External) uses customized fractional Bipolar Radiofrequency (RF) energy to improve vaginal skin tone, wrinkling, texture, tightening and resurfacing the external vaginal tissue for optimal vaginal appearance. The bi-polar RF treatment allows for gentle but full depth heating via micro-needles, and improves elastin and boosts collagen. The resulting tightening of the external tissue not only feels better but looks more aesthetically pleasing as well. The treatment is a confidence booster for many women who suffer from asymmetrical or what is known as a "floppy" labia but do not want to undergo surgical repair.
What is the recovery time for VOTIVA?
VOTIVA is performed in our office as an outpatient procedure. No local anesthesia is needed to treat the internal vaginal canal. Topical anesthetic will be used when treating the outside of the vagina for comfort and ease to the patient.
You can return to your daily life immediately although you may experience some vaginal discharge for the first few days post procedure. Depending on the type of treatment you may need to refrain from sex and use of a tampon for 1- 4 days post treatment.
Interested in learning more about this service? Book an appointment online here. 
Be sure to select "Other" under Appointment Type and type in "Votiva Consult" in the Reason for visit box.
VOTIVA Feminine Rejuvenation Event
Join us on Tuesday, September 17th at 5:30pm to learn more about this new service. We will provide refreshments and we will offer an exclusive event pricing. 
Be sure to call us to RSVP today for free here.